The dramatic drop in pediatric respiratory syncytial virus (RSV) and other invasive pneumococcal disease (IPD) that occurred during the Covid-19 pandemic was largely due to declines in viral infections rather than declines in pneumococcal carriage, new research confirms.
Using an interrupted time series design, researchers examined the association between pneumococcal carriage and IPD prompted by social distancing, mask wearing, and other non-pharmaceutical interventions (NPI) designed to reduce Covid transmission.
Their analysis, published online June 28 in JAMA Network Open, showed that the decline in IPD incidence largely occurred without concomitant change in pneumococcal carriage.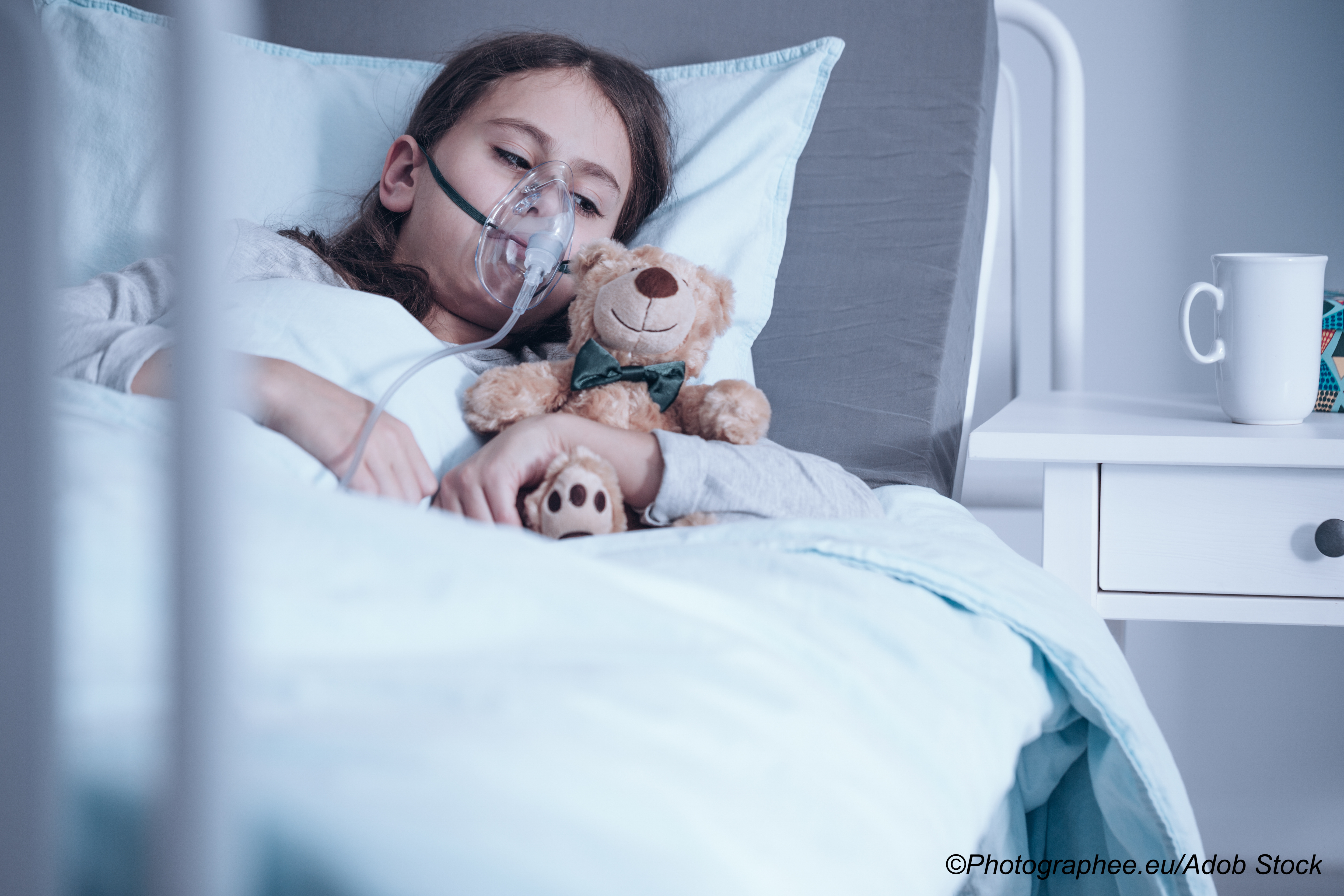 During Covid lockdowns, influenza and RSV cases were estimated to decline by 91% and 74%, respectively. Declines in influenza and RSV cases accounted for 53% and 40%, respectively, of the reduction in pediatric IPDs during the period of NPI designed to reduce Covid-19 transmission.
"The association between pneumococcal carriage and IPD was potentially modified by changes in the number of RSV and influenza cases, suggesting that interventions targeting respiratory viruses, such as immunoprophylaxis or vaccines for RSV and influenza, may be able to prevent a large proportion of pediatric IPD cases," wrote researcher Alexis Rybak, MD, of the Assistance Publique-Hopitaux, Paris, and colleagues.
The researchers analyzed data on close to 12,000 children younger than age 15 years from ambulatory and hospital-based national continuous surveillance systems of pneumococcal carriage, RSV and influenza-related diseases, and IPD between Jan. 1, 2007, and March 31, 2021.
The study's main outcomes included the estimated fraction of IPD change after implementation of Covid-related social restrictions and other NPI, as well as the association of this change with concomitant changes in pneumococcal carriage rate and RSV and influenza cases among children younger than 15 years.
Quasi-Poisson regression modeling was used to estimate the fraction of change.
During the study period, 5,113 children (median age, 1 year; 57.9% male) had IPD, and 6,831 healthy children (median age, 1.5 years; 51.7% male) received a swab test.
After initiation of Covid-related interventions, IPD incidence decreased by 63% (95% CI, −82% to −43%; P<0.001) and was similar for non–13-valent pneumococcal conjugate vaccine (non-PCV13) serotypes with both high disease potential (−63%; 95% CI, −77% to −48%; P<0.001) and low disease potential (−53%; 95% CI, −70% to −35%; P<0.001).
The overall pneumococcal carriage rate did not significantly change after NPI implementation (−12%; 95% CI, −37% to 12%; P=0.32). This included non-PCV13 serotypes with high disease potential (−26%; 95% CI, −100% to 52%; P=0.50) and low disease potential (−7%; 95% CI, −34% to 20%; P=0.61).
After Covid-19 restrictions were put in place, the estimated number of influenza cases decreased by 91% (95% CI, −74% to −97%; P<0.001), and the estimated number of RSV cases decreased by 74% (95% CI, −55% to −85%; P<0 .001).
"Overall, the decrease in influenza and RSV cases accounted for 53% (95% CI, −28% to −78%; P<0.001) and 40% (95% CI, −15% to −65%; P=0.002) of the decrease in IPD incidence during the NPI period, respectively," the researchers wrote. "The decrease in IPD incidence was not associated with pneumococcal carriage, with carriage accounting for only 4% (95% CI, −7% to 15%; P=0.49) of the decrease."
"In our study, the pneumococcal nasopharyngeal carriage rate remained stable despite unprecedented mitigation measures," the researchers wrote. "… Unlike in many other countries, the total duration of daycare center and kindergarten closures in France was short during the NPI period. This brief closure may have allowed for pneumococcal transmission between young children. However, the incidence of other childhood viral infections, such as varicella, was also substantially reduced in France over the same period, which suggests that NPI implementation also altered contact and transmission between young children."
The researchers added that the stable carriage rate may also have been a consequence of increased carriage duration combined with decreased transmission.
"An important competition exists between pneumococcal serotypes, and colonization by a serotype may lead to clearance of a preexisting colonizer," they wrote. "Thus, in a context of reduced contact between children, serotypes may be less challenged by other serotypes, thereby increasing the carriage duration.
"If specific studies are required to explore this hypothesis, our results highlight that carriage of S pneumoniae is unavoidable in young children, with the virus maintaining an ecological niche that remains occupied despite unprecedented human interventions," they added. "This finding has implications for future interventions, such as PCV implementation, that aim to modify pneumococcal carriage and provides new insight into the complex phenomenon of serotype replacement in carriage."
The finding of a stable pneumococcal carriage rate may challenge the hypothesis that social distancing and other NPI result in reduced natural immunity to respiratory pathogens resulting in larger future outbreaks.
"Our findings regarding the unchanged ecological niche of S pneumoniae suggest no decrease in natural immunity to pneumococcal serotypes," they wrote. "However, given the substantial consequences of RSV and influenza for IPD changes that we highlighted, a larger influenza or RSV outbreak may produce an increase in IPD incidence after relaxation of NPI, despite unchanged pneumococcal carriage rates."
The researchers cited several study limitations, including the reliance on temporal associations which preclude the establishment of a causal association, and the exclusion of respiratory viruses other than RSV and influenza in their analysis. In addition, the young age (median age, 1.5 years) of the children included in the study may have influenced the results.
"We cannot exclude the possibility that the pneumococcal carriage rates in children younger than 5 years, children aged 5 to 17 years, and adults, may play a marginal role in this ecological niche because the carriage rate is less than 10% in this population," they wrote.
In commentary published with the study, Ron Dagan, MD, of Ben Gurion University of the Negev, Beer Sheva, Israel, and colleagues wrote that the study by Rybak and colleagues "clearly highlights the role of RSV and influenza as cofactors in the pathogenesis of IPD, strengthening previous assumptions, and emphasizing that certain respiratory viruses are crucial in the process."
They noted that the observation of stable nasopharyngeal carriage during Covid-19 lockdowns and other NPI "strongly suggests no significant reduction in pneumococcal transmission in the community."
"The fact that even the carriage of serotypes with high disease potential did not change, including carriage of the most common invasive serotype, 24F, strengthens the point that although nasopharyngeal carriage is necessary for progression of disease, it is certainly not sufficient in most cases," they wrote.