Pot smokers are more than 20% more likely to experience trips to the emergency room (ER) or hospitalization compared to those who don't use the drug, according to findings published in BMJ Open Respiratory Research.
As cannabis use continues to rise around the globe, the health outcomes for people who smoke the drug are still up in the air—while some data suggest cannabis smoking is linked to chronic bronchitis-type symptoms and changes in bronchial inflammation, thus far, it has not been associated with measures of pulmonary function and airflow, or with emphysema, lead study author Nicholas Vozoris, MD, FRCPC, MHSc, of the Division of Respirology and the Li Ka Shing Knowledge Institute at St. Michael's Hospital, the University of Toronto, and ICES in Toronto, Ontario, Canada, and colleagues explained.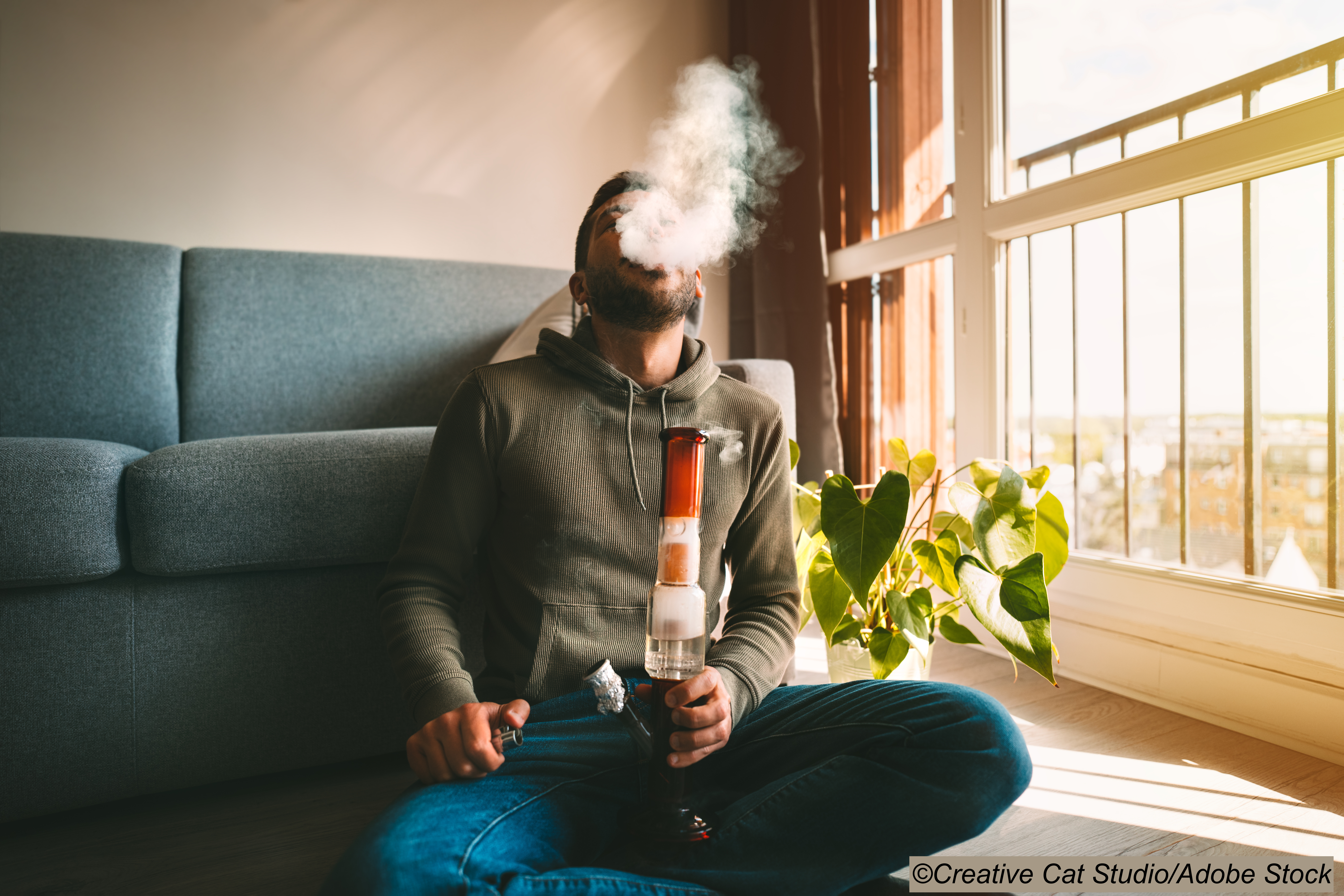 Vozoris and colleagues conducted this population-based, data-linkage, cohort study in an attempt to characterize the relationship between cannabis smoking and serious acute respiratory events, as identified by respiratory-related ER or hospital admission, as well as all-cause ER visits/hospitalizations and all-cause mortality.
They found that the odds of respiratory-related ER visits or hospitalizations—the study's primary outcome—was not significantly higher among cannabis users compared to controls.
"However," they added, "our population-based study demonstrated that cannabis use was associated with significantly increased all-cause ER visits or hospitalizations, which is arguably an equally clinically important morbidity outcome, with a relatively low [number needed to harm] NNH of only 25, and that respiratory-related reasons were in fact the second most common etiology for all-cause ER visits and hospitalizations among cannabis users.
"Although the observation of no significant association between cannabis use and respiratory-related ER visits or hospitalizations may certainly be real, and somewhat at odds with the limited previous literature on the topic, the negative result might also be explained by several possible factors for which we were unable to adjust, including: insufficient cannabis smoke exposure among users included in our particular study (e.g., previous research has shown that decline in lung function occurs only among cannabis smokers with >20 joints per year exposure history); some of the reported cannabis use being non-inhalational (which would be less likely to cause respiratory-related illness than inhaled cannabis); and, possible secondhand cannabis smoke exposure among control individuals, thereby 'contaminating' the control group," they wrote. "It is also possible that our analysis might have been insufficiently powered to detect a significant signal with respect to the primary outcome."
Based on these findings, Vozoris and colleagues concluded that "the worldwide rising use of recreational cannabis needs to be curtailed."
For this analysis, the study authors linked health survey and health administrative data for Ontario residents ages 12-65 years who participated in the 2009-2010 or 2011-2012 Canadian Community Health Surveys (CCHS). If a participant had data for both surveys, only the most recent data were included for analysis.
Patients who reported any cannabis use in the preceding 12 months were matched to a control group of those who reported never using cannabis, or who used cannabis only once and longer than 12 months ago. Individuals who used cannabis multiple times but more than 12 months ago were excluded.
The primary study outcome was respiratory-related ER visits or hospitalizations, which were defined using ICD-10 codes for upper or lower respiratory tract infection, respiratory failure, asthma, or chronic obstructive pulmonary disease (COPD); secondary outcomes were all-cause ER visits/hospitalizations and all-cause mortality.
The study authors identified 35,114 individuals from the CCHS surveys who had either used cannabis in the past year or served as controls. A tot1`al of 4,807 past-year cannabis users were propensity score matched to 10,395 control participants. Among those exposed to cannabis, 42.5% reported using less than once a month, 18.1% reported using one to three times a month, 9.4% reported using once a week, 11.4% reported using more than once a week, and 10.5% reported daily use. Cannabis use frequency data were unavailable for 8.0%.
"In the propensity score matched cohort, odds of respiratory-related ER visit or hospitalization was not significantly different between exposed and control individuals (odds ratio [OR] 0.91, 95% CI 0.77 to 1.09, P=0.32)," the study authors found. "However, compared with the control group, cannabis users had significantly greater odds of all-cause ER visit or hospitalization (OR 1.22, 95% CI 1.13 to 1.31, P<0.0001, NNH 25). Examining the top 100 ICD-10 diagnostic codes recorded as etiologies for the all-cause ER visit and hospitalization outcome among cannabis users revealed that respiratory-related were the second most common cause (14.2%), after acute trauma (15.1%). All-cause mortality was not significantly different between the two groups (OR 0.99, 95% CI 0.49 to 2.02, P=0.98)."
The study authors noted that these associations held true across sensitivity analyses, including by sex, prior respiratory-related ER visit or hospitalization, tobacco smoking history, and pre-existing asthma or COPD.
Vozoris et al also pointed out that it was "noteworthy that the leading etiology of the increased all-cause ER visit/hospitalization outcome among cannabis users was acute trauma (~18%). Because our present research focus was on the possible association between cannabis use and acute respiratory infectious illness, it was beyond our scope to further describe possible associations between cannabis use and physical trauma. However, there is a growing body of published literature linking cannabis consumption to increased risks of generalized body injury, motor vehicle accidents, falls, and skeletal fractures (along with low bone mineral density)."
"The results of our research support that health care professionals and government should discourage recreational cannabis consumption in the general population," Vozoris concluded in a statement. "Given the context of cannabis decriminalization in Canada, which has very likely facilitated the broader use of this product in the population, more efforts need to [be] made from our health and political leaders to educate and remind citizens about the harmful impacts of cannabis on health."
Study limitations included an inability to establish causation; unmeasured confounding that may have influenced results; self-reporting of cannabis use, which may be subject to recall and social desirability biases; that the high number of infrequent cannabis users may have contributed to the lack of a significant association between cannabis use and respiratory related ER visits/hospitalizations; failure to account for quantity and potency of cannabis used; failure to adjust for possible secondhand cannabis smoke exposure; and that the findings may not apply to children or adults over 65 years who use cannabis.