For breast cancer patients taking a direct oral anticoagulant (DOAC), concurrently using tamoxifen does not put them at higher risk of hemorrhage compared with using a DOAC and an aromatase inhibitor (AI), according to new study findings.
"During a median follow-up of 166 days (IQR, 111-527 days), tamoxifen was not associated with a higher risk of major hemorrhage (29 of 1179 [2.5%]) compared with an AI (119 of 3574 [3.3%]) when combined with a DOAC (absolute risk difference, −0.8%; weighted hazard ratio, 0.68 [95%CI, 0.44-1.06])," Tzu-Fei Wang, MD, The Ottawa Hospital, Ontario, Canada, and colleagues wrote in JAMA Network Open. These results were similar in additional analyses using a more liberal definition of hemorrhage, accounting for kidney function, limiting follow-up to 90 days, stratifying by incident and prevalent DOAC users, and accounting for cancer duration and the competing risk of death.
Wang and colleagues noted the importance of these findings by explaining that, in general, cancer patients have a 12-fold higher risk of venous thromboembolism (VTE) than those in the general population, and this risk increases to a 23-fold risk when patients are on cancer treatment. Moreover, this patient population is also at a higher risk for atrial fibrillation and arterial thrombosis than those without cancer.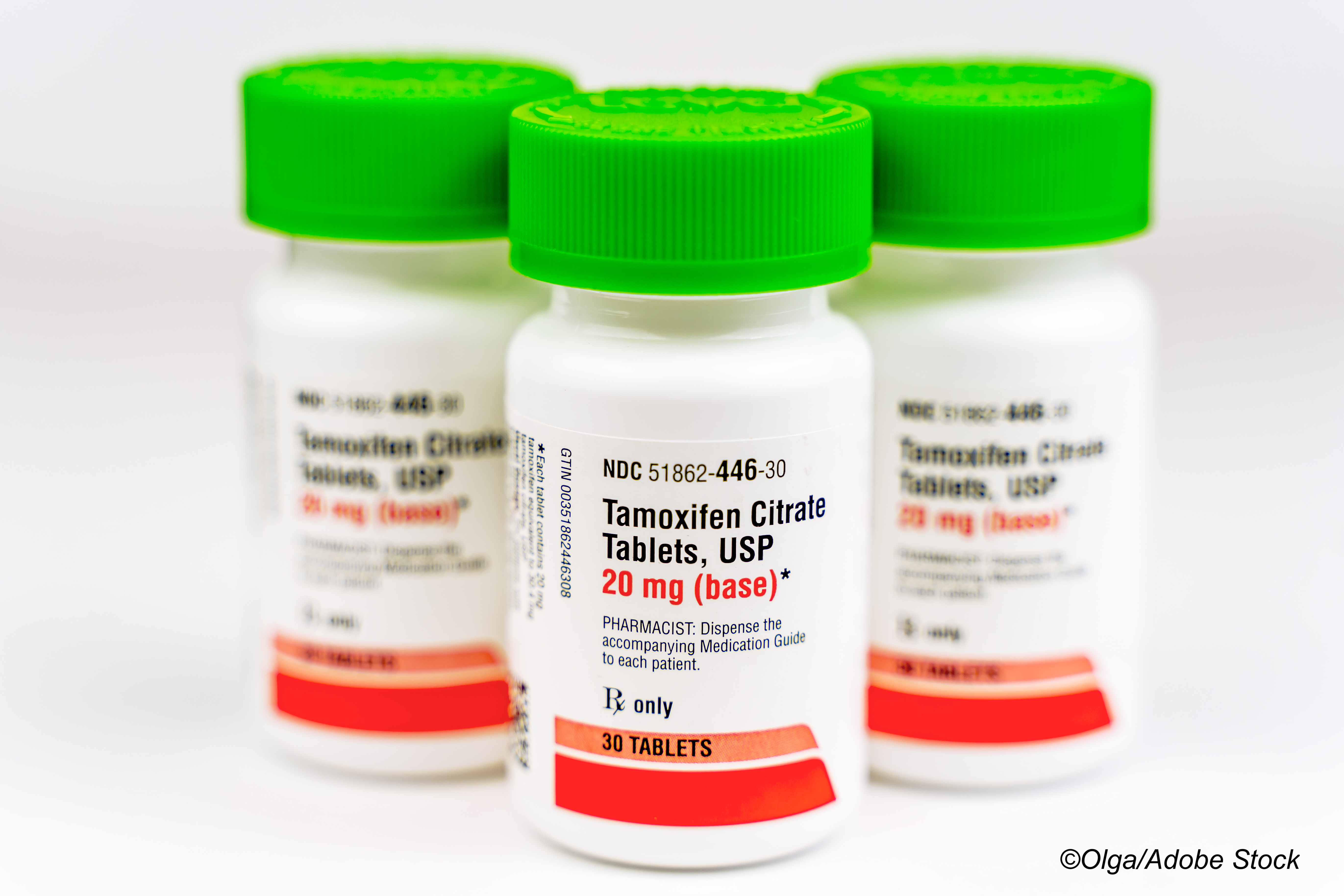 "Direct oral anticoagulants (DOACs) are becoming the preferred anticoagulant for patients with cancer for the prevention and treatment of thromboembolism," Wang and colleagues wrote. "Direct oral anticoagulants are substrates of two main metabolic pathways: P-glycoprotein (P-gp) cell transporters and cytochrome P450 enzyme (CYP3A4) in the liver. Edoxaban and dabigatran are involved in the P-gp pathway, whereas apixaban and rivaroxaban are involved in both. Concomitant medications that inhibit P-gp and/or CYP3A4 pathways can lead to higher DOAC concentrations and a heightened risk of hemorrhage, largely based on in vitro pharmacokinetic data. Major international guidelines, product monographs, and consensus statements suggest caution when using DOACs with potentially strong interfering drugs in patients with cancer. However, whether this results in clinically relevant bleeding events remains largely unknown."
They go on to explain: "Tamoxifen, used for hormone receptor–positive breast cancer, is reported as an inhibitor in the CYP3A4 and P-gp pathways, posing a possible drug-drug interaction (DDI) with DOACs and heightened bleeding risk."
Wang and colleagues noted that, to their knowledge, this is the largest study of its kind to look at the DDIs in patients who are taking DOACs and hormonal breast cancer treatments.
Their population-based, retrospective cohort study looked at patients who were 66 years or older taking tamoxifen plus a DOAC and compared this group to those taking an aromatase inhibitor with a DOAC.
They scoured the Ontario Cancer Registry looking for people who were diagnosed with breast cancer during or within 5 years before concurrent use of a DOAC. They were looking for prescriptions filled for the DOACS—rivaroxaban, apixaban, dabigatran, or edoxaban. The hormonal cancer treatments they were interested in were tamoxifen, anastrozole, letrozole, or exemestane.
"During the study period (June 23, 2009, to Nov. 30, 2020), among a total of 539,366 patients prescribed DOACs, 4,753 who were 66 years or older had a diagnosis of breast cancer and received tamoxifen or an AI," Wang and colleagues wrote. "Of these, 4,679 patients (98.4%) were women, and 74 patients (1.6%) were men; the mean (SD) age was 77.4 (7.4) years."
The study authors noted that race and ethnicity data were not available.
The hormonal therapies broke down as follows:
1,179 (24.8%) patients received tamoxifen.
3,574 received an AI—52.2% letrozole, 44.2% anastrozole, and 3.6% exemestane.
The DOAC prescriptions for the cohort included:
Rivaroxaban—2,530 patients (53.2%).
Apixaban—1,665 patients (35.0%).
Dabigatran—502 patients (10.6%).
Edoxaban—56 patients (1.2%).
Major hemorrhage that requires an ER visit or hospitalization was the primary outcome. They defined these as upper or lower gastrointestinal tract hemorrhage, or an intracerebral, subarachnoid, or other non-traumatic intracranial hemorrhage. "Overlap weighted Cox proportional hazards models, accounting for multiple covariates, were used to assess the association between hemorrhage and tamoxifen or AI use with a DOAC," they explained.
Among their findings:
The use of concurrent DOAC and hormone therapy increased over time.
Hypertension was the most common comorbid condition at 78.8%, followed by atrial fibrillation (34.6%) and diabetes (32.6%).
21.3% of the patients had a history of VTE.
Angiotensin-converting enzyme inhibitors and/or angiotensin II receptor blockers, as well as lipid-lowering agents, were the most common concurrent medications besides DOACs.
25% of the patients were taking nonsteroidal anti-inflammatory drugs, and 5.8% were taking antiplatelet agents.
"Patients taking AIs versus tamoxifen included more women (3568 [99.8%] versus 1111 [94.2%]), were younger (mean [SD] age, 77.1 [7.3] versus 78.3 [7.6] years), had a higher Charlson Comorbidity Index (mean [SD], 1.8 [2.4] versus 1.5 [2.2]), and had more advanced stage cancer (stages III and IV, 569 [15.9%] versus 127 [10.8%])," Wang et al pointed out
Along with their finding that tamoxifen was not associated with higher bleeding risk than AIs, they also noted: "Tamoxifen was not associated with a higher hemorrhage risk in several additional analyses, including accounting for eGFR, limiting the follow-up window to 90 days, accounting for incident and prevalent DOAC users, and accounting for cancer duration and the competing risk of death. No association was identified between the use of tamoxifen (9 of 1179 [0.8%]) or an AI (32 of 3574 [0.9%]) and the negative outcomes of cholecystitis, diverticulitis, and appendicitis (weighted HR, 0.89 [95%CI, 0.42-1.90])."
Limitations of the study include its design. Wang and colleagues also noted that these results may not be generalizable to a younger population, and they pointed out that with many over-the counter-drugs such as aspirin or NSAIDs that do not require a prescription, may not have been reflected in the database.