Intratumoral infusion of oncolytic virus DNX-2401 followed by radiation therapy in children with newly diagnosed diffuse intrinsic pontine glioma (DIPG) led to changes in T-cell activity and a reduction or stabilization of tumor size, but it was also tied to adverse events, a phase I study found.
Of 12 pediatric patients, nine had a reduction of tumor size on MRI, three had a partial response, and eight had stable disease over a median follow-up of 17.8 months (range 5.9-33.5), reported Marta Alonso, PhD, of the Health Research Institute of Navarra, Spain, and co-authors.
Adverse events included headache, nausea, vomiting, and fatigue, each of which occurred in nine patients, Alonso and colleagues wrote in The New England Journal of Medicine.
One patient experienced hemiparesis related to a biopsy procedure; symptoms progressed from severe to mild after 12 weeks. Another had tetraparesis beginning after hospital discharge and worsening through radiotherapy. Overall, nine patients had at least one adverse event possibly related to treatment.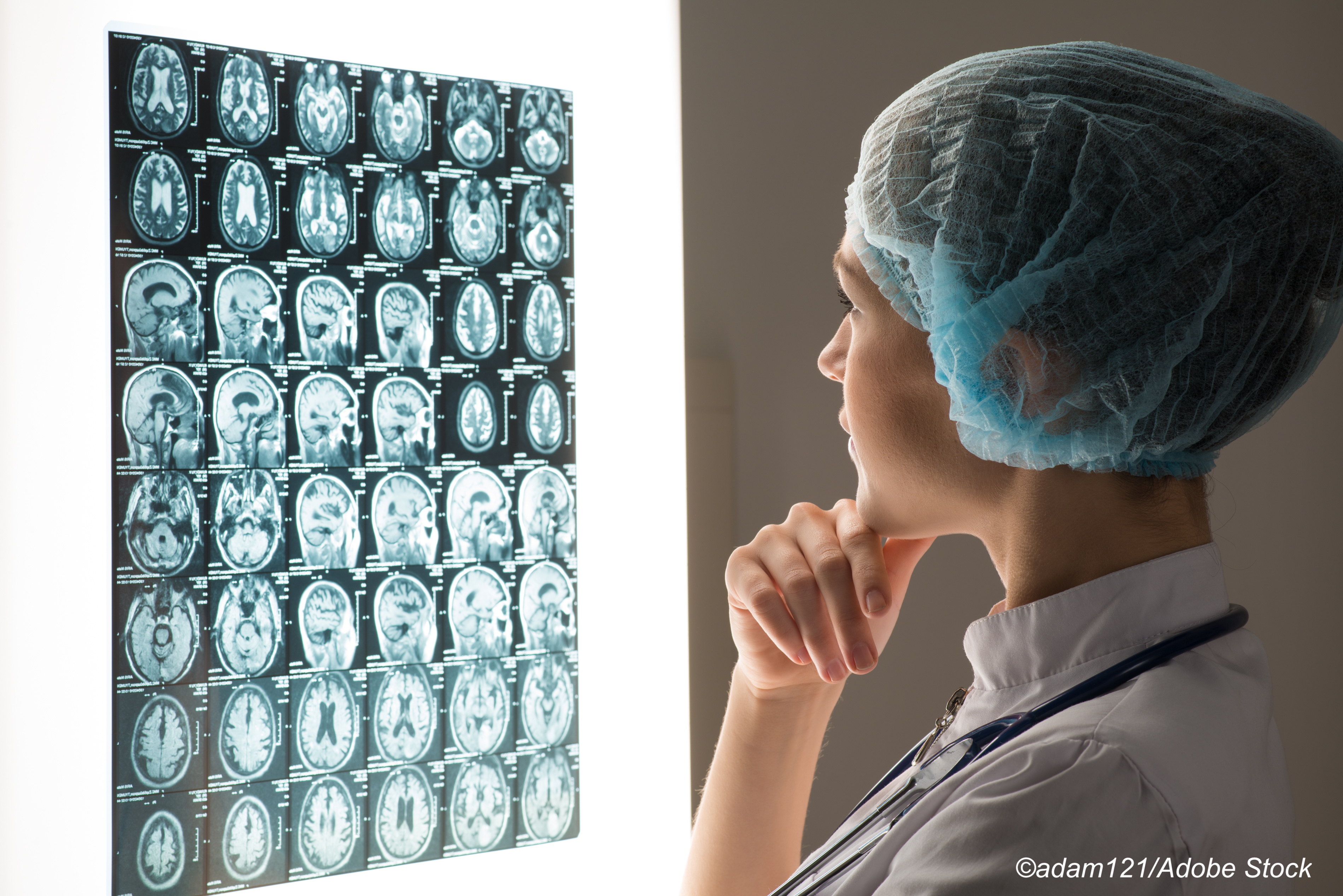 Median survival was 17.8 months and the overall survival rate at 18 months was 50%. Nine patients were alive at 12 months after DNX-2401 administration, including three patients who were alive at 24 months. Median progression-free survival was 10.7 months; one patient was free of tumor progression at 38 months.
"The results of the current study suggest that intratumoral infusion of DNX-2401 before radiation therapy is feasible in children with DIPG, providing a rationale for the conduct of a larger trial," Alonso and co-authors wrote.
"In previous studies involving patients with DIPG, the median overall survival with radiation therapy alone was reported to be generally between 8 and 12 months, with minimal benefit from the addition of nimotuzumab, everolimus, dasatinib, or erlotinib to radiotherapy or the use of reirradiation at recurrence," they added. "However, the small sample size in our study and the lack of a randomized design preclude any conclusion regarding survival."
DIPGs are aggressive glial brain tumors that largely affect children; median overall survival is 1 year. DIPG is classified as a diffuse midline glioma by the World Health Organization and is often associated with histone protein mutations.
A triad of cerebellar signs, cranial nerve palsies, and long tract signs may point to the diagnosis, typically made by MRI within several months of symptom emergence. Treatment has been radiotherapy to which chemotherapy may be added, though most patients treated with focal brainstem radiotherapy have local relapse.
DNX-2401 is an oncolytic adenovirus that selectively replicates in tumor cells. A prior study of DNX-2401 in adults with recurrent malignant glioma demonstrated tumor immune cell infiltration, tumor regression, and improved survival.
Earlier research also included a case study of an 8-year-old female patient with DIPG in an open-label, dose-escalating trial of DNX-2401 who had no procedure-related issues or viral toxicity for 4 weeks following the infusion.
The phase I study included seven female and five male patients with median age of 9. Participants had symptoms a median of 32 days prior to trial enrollment. Eight children had received dexamethasone treatment prior to DNX-2401 infusion.
Following biopsy and during a single procedure, the 12 participants received 1×1010 (first four patients) or 5×1010 (next eight patients) viral particles of DNX-2401, with a median hospital stay of 2.3 days. Radiotherapy was administered in 11 patients beginning at a median 17 days after surgery (one patient's parents declined).
MRI was obtained at screening, after surgery, and at outpatient visits every 4 weeks for 3 months. Children with tumor progression received additional treatments at their oncologist's discretion, including chemotherapy, additional radiation, or other agents. One patient had a second DNX-2401 infusion.
Results from peripheral blood samples and one autopsy sample showed alteration of the tumor microenvironment and T-cell repertoire, Alonso and colleagues noted. Histone H3 mutations were found in 83%.
"Although the initial rationale behind the use of engineered, conditionally replicating viruses in the treatment of cancer has been their ability to replicate and kill tumor cells, preclinical and clinical evidence supports the view that oncolytic cell death also has immunostimulatory properties," noted Evanthia Galanis, MD, of the Mayo Clinic in Rochester, Minnesota, in an accompanying editorial.
"After tumor cells are infected, oncolytic viruses activate pathogen-recognition receptors, including toll-like receptors and cytoplasmic receptors, which function as sensors for viral DNA and RNA," she continued. Once activated, signaling pathways produce "danger signals" recognized by the immune system, with resulting inflammation and induced innate and adaptive immune responses, she noted.
Before administration of the virus in this phase I trial, biopsy showed scarce CD8 and CD4 T-cell infiltration, with myeloid cells being the most abundant immune population—"findings that are consistent with glioma-induced immunosuppression," Galanis pointed out. The single patient's autopsy results available after viral infusion showed a reduction in the number of myeloid and regulatory T cells and an increase in CD8+ and CD4+ T-cell infiltrates with upregulation of pathways affecting macrophages and cytokines, she added.
"The questions remain as to what degree of viral replication is necessary to produce a sufficient immunostimulatory effect and how pre-existing antiviral immune response may influence this effect," she wrote.
"Characterizing the effect of viral replication on the immunotherapeutic potential of oncolytic platforms and rationally designing combinations with other immuno-oncology agents represent a direction worth exploring in order to improve immunotherapy for brain tumors and pave the path to wider use in patients and to more regulatory approvals," Galanis added.
Limitations included the study's small sample size and focused objective. The authors noted clinical and imaging changes due to therapy-related inflammation or edema may possibly have been interpreted as disease progression (pseudo-progression), making duration of progression-free survival difficult to determine. In addition, post-treatment tumor samples were available only for one participant.