Waiting more than 90 days after an ischemic stroke to have elective non-neurologic, non-cardiac surgery may not reduce recurrent stroke risk, an analysis of Medicare data suggested.
Older adults who had a stroke within 30 days before surgery had an 8-fold higher risk of perioperative stroke than those who did not have a previous stroke (adjusted OR 8.02, 95% CI 6.37-10.10, P<0.001), according to Laurent Glance, MD, of the University of Rochester, New York, and co-authors.
Risk decreased at 90 days and did not drop significantly after that, Glance and colleagues reported in JAMA Surgery. Odds of peripoperative stroke were not significantly different when the time between previous stroke and surgery was 61 to 90 days (adjusted OR 5.01, 95% CI 4.00-6.29, P<0.001) versus 181 to 360 days (adjusted OR 4.76, 95% CI 4.26-5.32, P<0.001).
"These findings suggest that the recent scientific statement by the American Heart Association and American Stroke Association to delay elective non-neurologic, non-cardiac surgery at least 6 months after a recent stroke maybe too conservative," Glance and colleagues wrote. "Additional studies using all-payer data are necessary to examine the role of surgical timing in patients younger than 66 years."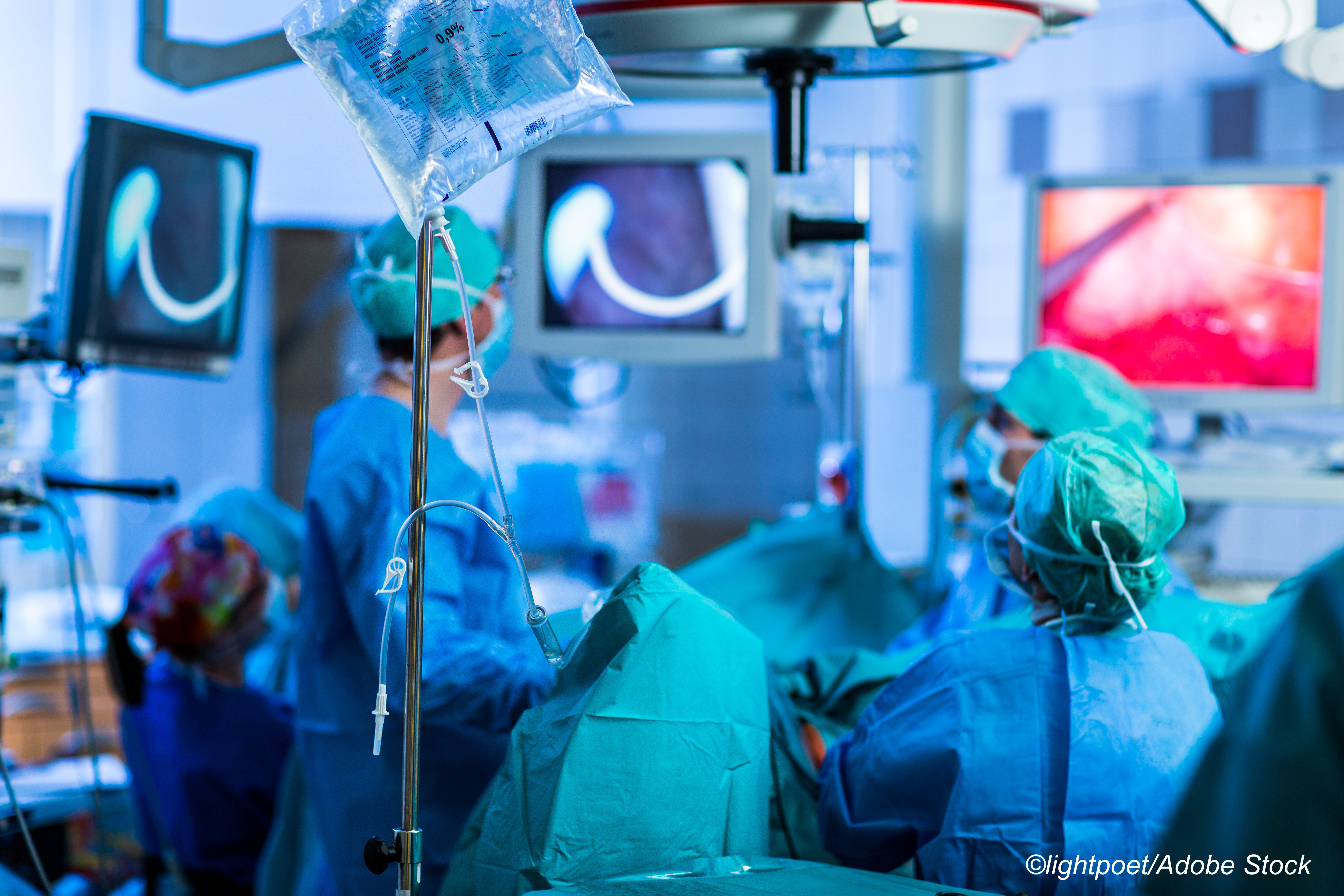 The study is "an important and timely contribution to the field of perioperative medicine," noted Danny Chu, MD, of University of Pittsburgh and co-authors, in an invited commentary. "While evidence-based consensus statements help guide clinicians to make the best decisions for patients, they are only as good as the data and populations on which they are based."
"In these cases, overestimation of risk of perioperative stroke might lead to unnecessary surgical delays, especially for semi-urgent surgeries (i.e, cancer), and unnecessary intraoperative neurological monitoring and may significantly impact patient care and healthcare system cost," the editorialists pointed out.
"The most widely used tool to assess perioperative risk is the National Surgical Quality Improvement Program Surgical Risk Calculator, a predictive model developed by the American College of Surgeons across 393 different institutions," Chu and co-authors added.
"Further analysis of the American College of Surgeons Surgical Risk Calculator has shown a decrease in predictive accuracy locally when applied to unique operations, patients, institutions, and regions," they continued. "This is one of the criticisms that Glance et al level against the American Heart Association/American Stroke Association guidelines as they discuss differences in populations that may influence perioperative stroke risk."
Other institutions have created predictive algorithms which may result in better prediction of perioperative stroke and more efficient use of clinical resources, Chu and colleagues noted. "The one-size-fits-all perioperative stroke risk model may not be applicable as we move toward the era of personalized medicine," they observed.
Glance and co-authors analyzed data from the 100% Medicare Provider Analysis and Review files (including the Master Beneficiary Summary File) between 2011 and 2018, of elective non-neurologic, non-cardiac surgeries in patients age 66 or older. The study included 5,841,539 surgeries of Medicare patients. Of these, 54,033 people (0.9%) had history of acute ischemic stroke preceding the index surgical admission.
The mean age of the cohort was 74.1 and 57.7% were women. Patients with more than one procedure during a 30-day period, who were transferred from another facility, or who had tracheostomies or gastrostomies were excluded.
The researchers evaluated the time between the previous stroke and the index surgery to recurrent stroke within 30 days. Results were adjusted for age, sex, race and ethnicity, dual-eligibility status, transfer from a nursing home or skilled nursing facility, comorbidities, surgical procedure class, and year of admission.
Odds were higher for 30-day all-cause mortality for patients who had surgery within 30 days of the previous stroke (adjusted OR 2.51, 95% CI 1.99-3.16, P<0.001) compared with patients without a history of stroke. For an interval of 61 to 90 days from previous stroke to surgery, adjusted OR for mortality was 1.49 (95% CI 1.15-1.92, P<0.001).
"We found that patients with a history of stroke within 30 days of elective non-neurologic, non-cardiac surgery had an 8-fold higher risk of acute ischemic stroke, a 2.5-fold higher risk of all-cause mortality, and a 3-fold higher risk of discharge to a nursing home or skilled nursing facility compared with patients without a history of stroke," Glance and colleagues wrote.
"The risk of recurrent stroke in patients with a previous stroke leveled off after 90 days but was still 5-fold higher compared with patients without such a history," they continued. "The risk of death also leveled off after 90 days, but the rate was still 50% higher than in patients without a previous stroke."
Risk of perioperative stroke may be higher than reported because people with more severe strokes may have avoided surgery, the researchers acknowledged.
"This limitation is important because patients and their physicians might decide that the adjusted rates of stroke reported in this study are low enough to proceed with elective surgery," they wrote. "The findings are based on data from self-selected patients who may not be representative of all patients who consider undergoing elective surgery after a previous stroke."
Survivor bias also may have affected the study population: those whose prior stroke occurred further back in time (e.g., 181-360 days) compared with more recent strokes (e.g., 61-90 days) may have been healthier and less likely to have a recurrent stroke. In addition, the analysis did not control for the use of antithrombotic therapy during the perioperative period.