Treatment with high-dose dexamethasone was not associated with significantly improved survival among Covid-19 patients in the ICU, and no added benefit was shown for alternatives to standard oxygen support in the randomized COVIDICUS clinical trial.
Among patients with severe Covid-19 acute hypoxemic respiratory failure, neither continuous positive airway pressure (CPAP) nor high-flow nasal oxygen was associated with improvements in 28-day risk of needing invasive mechanical ventilation (IMV), compared to standard oxygen support in the multicenter study.
Sixty-day survival was also similar between patients receiving standard doses of dexamethasone and those treated with a high dose regimen of the drug.
Study findings, published online July 5 in JAMA Internal Medicine, suggest that in this subset of very ill Covid-19 patients, high-dose corticosteroids and enhanced non-invasive oxygen support strategies offer little benefit for long-term survival and avoidance of IMV, wrote researcher Jean-Francois Timsit, MD, PhD, of Bichat Claude Bernard Hospital, Paris, France, and colleagues.
Low-dose corticosteroids became standard of care for patients hospitalized with severe Covid-19 following the February 2021 publication of the RECOVERY trial, which showed treatment with 6 mg a day of dexamethasone for 10 days to be associated with improved survival.
Results from several studies examining higher-doses of the corticosteroid in patients with severe Covid-19 have been mixed, with one suggesting benefit for 20 mg/d compared to 6 mg/d, while another showing no difference between 12 mg/d and 6 mg/d in the outcomes of 28-day mortality or days without life support.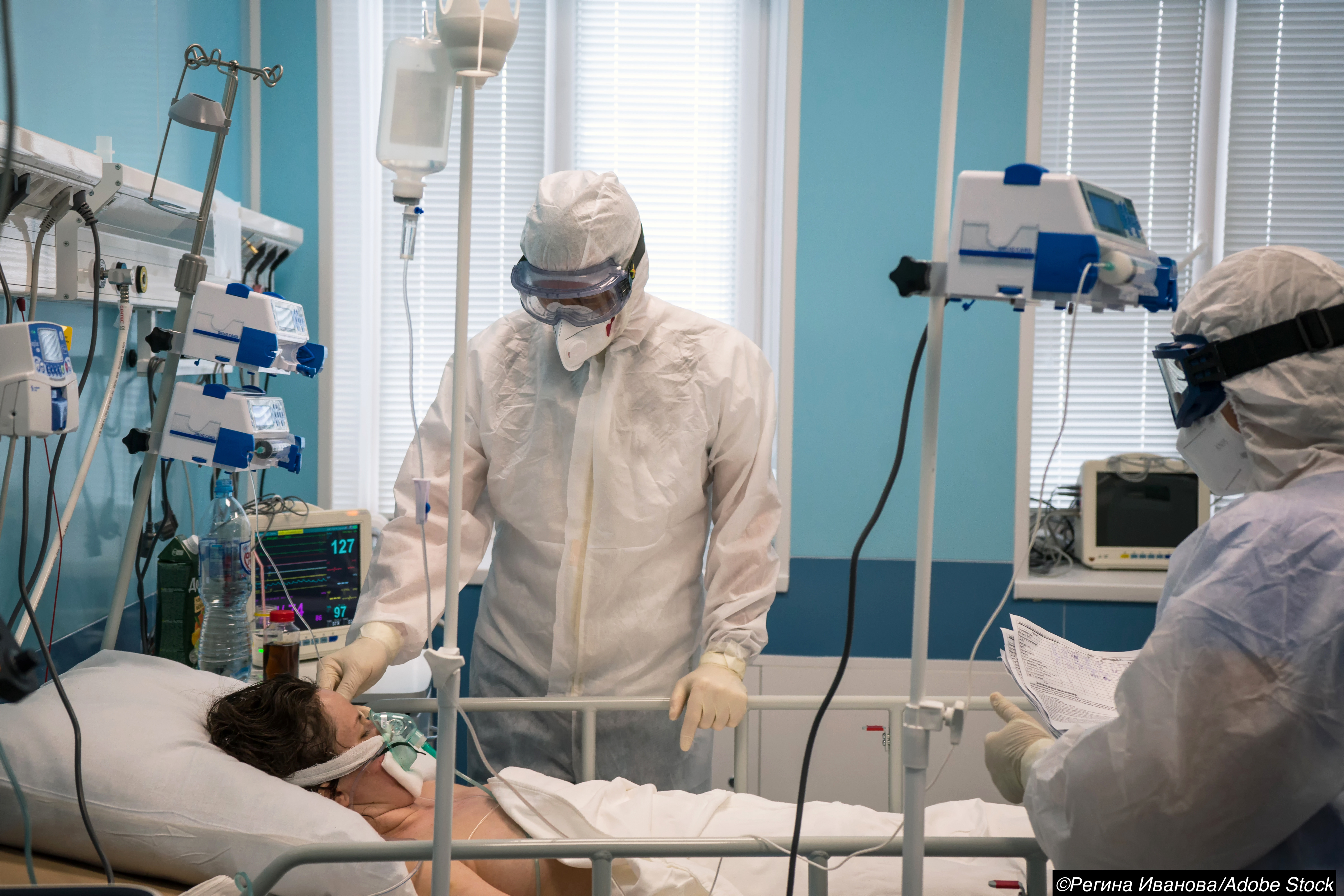 The COVIDICUS trial, conducted in 19 ICUs in France from April 2020 to January of 2021, was designed to compare standard versus high-dose dexamethasone in Covid-19 patients hospitalized with acute hypoxemic respiratory failure and also to compare different strategies for non-invasive oxygen support in these patients.
Patients were randomized to receive standard dexamethasone (dexamethasone-phosphate 6 mg/d for 10 days, or placebo prior to RECOVERY trial publication) or high-dose dexamethasone (dexamethasone-phosphate 20 mg/d on days 1-5 then 10 mg/d on days 6-10).
Patients who did not require invasive mechanical ventilation were randomized to receive either standard oxygen support, CPAP, or high-flow nasal oxygen.
The main study outcomes were time to all-cause mortality at day 60 in the dexamethasone intervention and time to IMV requirement, assessed at day 28, for the oxygenation interventions.
A total of 546 patients (median [IQR] age, 67 years, 75.8% men) were randomized to standard dexamethasone (276 patients) or high-dose dexamethasone (270 patients).
A total of 333 previously randomized patients were also randomized to the oxygen arm of the study, receiving standard oxygen therapy (109 patients, including 56 receiving standard dexamethasone), CPAP (109 patients, including 57 receiving standard dexamethasone), and high-flow oxygen therapy (115 patients, including 56 receiving standard dexamethasone).
No difference in 60-day mortality was reported between standard and high-dose dexamethasone groups (HR, 0.96; 95% CI, 0.69-1.33; P=0.79) and no significant difference was reported for the cumulative incidence of IMV criteria at day 28 among oxygen support groups (standard oxygen versus CPAP: HR, 1.08; 95% CI, 0.71-1.63; standard oxygen versus high-flow oxygen: HR, 1.04; 95% CI, 0.69-1.55) or 60-day mortality (standard oxygen versus CPAP: HR, 0.97; 95% CI, 0.58-1.61; standard oxygen versus high-flow oxygen: HR, 0.89; 95% CI, 0.53-1.47).
"Our trial had several strengths, such as its multicenter and placebo-controlled design, a sealed randomization to the assigned strategy, a well-defined study protocol that included prespecified criteria for intubation, a prolonged follow-up and a very low rate of protocol violations for dexamethasone administration," Timsit and colleagues wrote.
Study limitations included a high (17%) lack of adherence to the allocated oxygen strategy in the oxygen arm of the study and insufficient power to identify smaller benefits of alternative oxygen strategies among patients.
"Other more general limitations should be acknowledged," the researchers wrote. "First, all participating centers were in France, which raises questions about the general applicability of these findings… Second, this study spanned from April 2020 to January 2021, i.e., a time period during which the treatment of patients with severe Covid-19 changed greatly, especially for concomitant treatments and supportive care. This was highlighted by the need for the change in the control group, owing to reported benefit of low doses of dexamethasone; of note, no evidence of any interaction between the type of control was detected."