PrEP to Prevent HIV Moves Apace
From ABCs to long-acting agents in 2 decades
04/18/2023
Edward Susman, Contributing Writer, BreakingMED™
Vandana G. Abramson, MD, Associate Professor of Medicine, Vanderbilt University Medical Center
Long-acting injectable pre-exposure prophylaxis (LAI PrEP) to prevent contracting HIV is now available and can last for 2 months with one intramuscular injection.

In the pipeline for HIV PrEP are even longer-acting agents that only require dosing every 6 months, and possibly even longer intervals.
The best way to treat the worldwide epidemic of human immunodeficiency virus (HIV) infection is to prevent people from being infected in the first place, and pre-exposure prophylaxis (PrEP) appears to be a successful way to accomplish prevention among people who acquire the infection through sexual activity.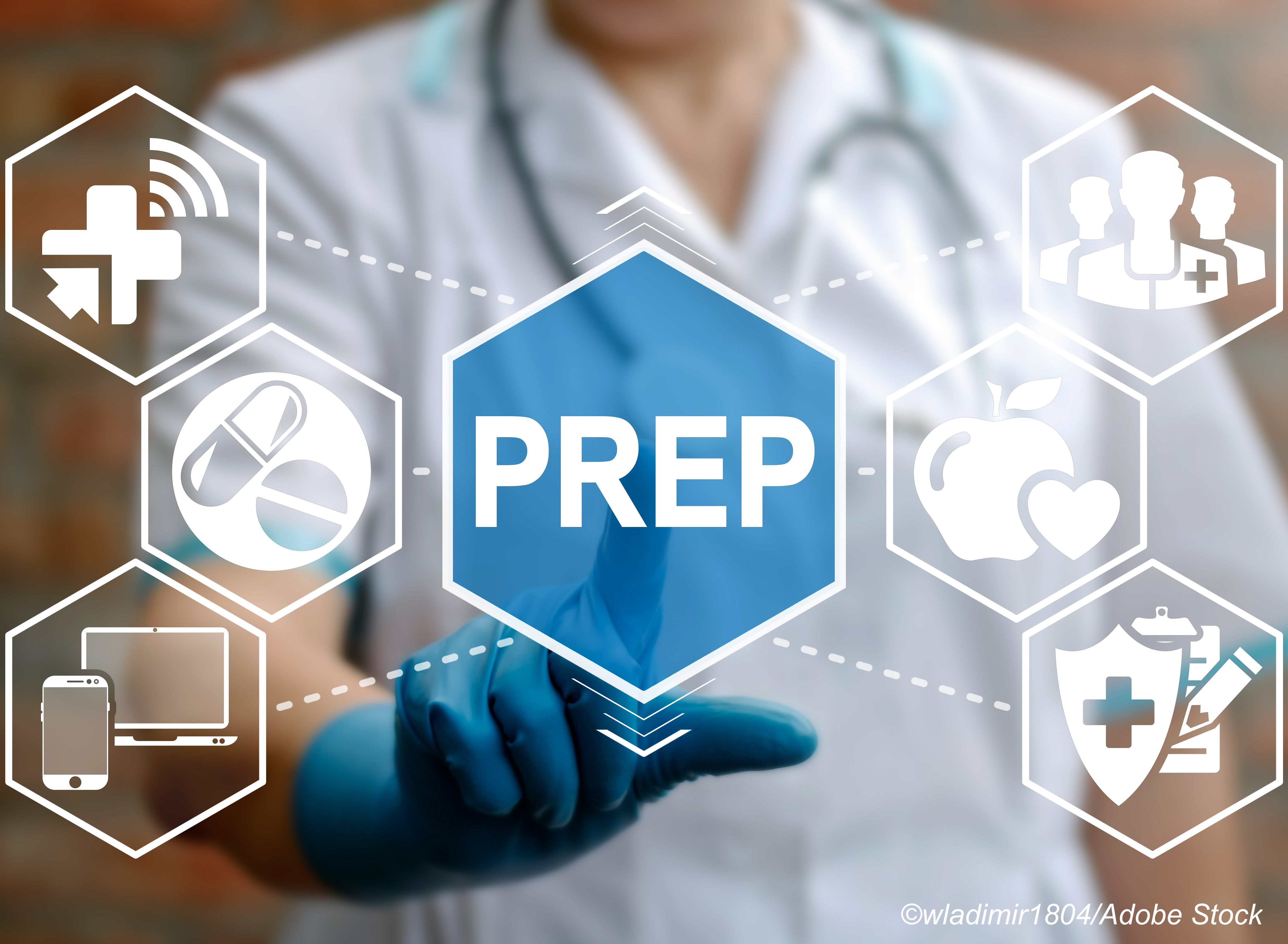 "You have to remember that less than 20 years ago, all we had for prevention were the ABCs—Abstinence, Be faithful, and use Condoms," said Joseph McGowan, MD, medical director of the HIV service line program for Northwell Health, and professor of medicine at the Zucker School of Medicine at Hofstra/Northwell, Manhasset, New York.
"Until the 21st Century, PrEP for HIV consisted of condom use—and to put it mildly, it wasn't very successful in preventing HIV transmission," Mitchell Warren, BA, executive director of AVAC, a global HIV-prevention organization, told BreakingMED. From ABCs, the steps to long-acting PrEP have developed quickly through the use of male circumcision—found to reduce the risk of transmission of HIV among heterosexual couples by as much as 60% in studies among African populations, he said.
Then along came oral PrEP, first with one drug, then with better and better combinations that were capable of reducing the risk of transmission among at-risk populations to as low as 1.2 infections in 100 person-years of treatment, he said. Along with oral PrEP, the dapirivine vaginal ring made its appearance, reducing the risk of acquiring HIV by 27% to 67%, depending on age and adherence of the women who were using the device. Oral PrEP proved to be most efficient when it was taken daily, rather than on-demand, and that created another adherence problem, the researchers said.
LAI PrEP, at Long Last
In 2020, researchers at the virtual International AIDS conference in San Francisco ushered in the long-acting injectable (LAI) PrEP era, reporting that an injection of cabotegravir every 2 months was at least as good as a oral PrEP, reported Raphael Landovitz, MD, professor of medicine at the David Geffen School of Medicine at the University of California, Los Angeles.
In the HIV Prevention Trials Network 083 study, people who were taking cabotegravir injections reduced their risk of becoming infected with HIV by 66% compared to those on oral tenofovir/emtricitabine, he said. The study was halted early on the advice of the data monitoring and safety board because of dramatic reduction in infections in the cabotegravir arm.
"At that time, we had enrolled 4,570 participants," Landovitz said. "We found 52 incident infections, or an incident rate of 0.81 overall. In the cabotegravir arm we observed 13 infections for an incidence rate of 0.41; in the tenofovir/emtricitabine arm, we found 39 incident HIV infections for an incidence rate of 1.22."
"The hazard ratio between the two arms was 0.34—that is 66% fewer incidents in the people receiving cabotegravir compared to those receiving tenofovir/emtricitabine [95% CI, 0.18-0.62], which excludes the pre-specified non-inferiority margin of 1.23; the superiority boundary was unity of 1.0; the protocols pre-specified alternative hypothesis of 0.75—definitively establishing superiority of cabotegravir compared to tenofovir/emtricitabine," Landovitz said.
The trial was conducted at 43 sites in North and South America, Asia, and Africa. Landovitz and colleagues enrolled adult cisgender men and transgender women who had sex with men at increased risk of HIV infection. Patients who could not take the injections were given 48 weeks of open-label tenofovir/emtricitabine to cover the pharmacokinetic tail of the long-acting injectable cabotegravir.
The study results were published in The New England Journal of Medicine in 2021, and the therapy was approved by the FDA in December 2021. The approval was based on the results from two randomized controlled trials for cabotegravir extended-release, the HPTN 083 trial among men who have sex with men and transgender women, and in November 2020 among women in sub-Saharan Africa.
"Cabotegravir opened up options for different groups of people," McGowan told BreakingMED. "For the people who are young, healthy, and not on medication, taking a pill daily is something they may not be very good at doing, so an injection may remove that barrier.
"Another group may be those who may be facing some kind of stigma by taking pills, or they can't keep a pill bottle where they are because it might be discovered by parents or others, so the injection could be a great option for them.
"And then there are people who want to have something that is easy to take that is passive in a way, so they don't have to make decisions or do sexual activity planning, and on-demand PrEP would not be something they could easily negotiate," McGowan said.
On the other hand, LAI PrEP injections may not be a panacea either, he said. "The mechanics of cabotegravir PrEP do limit its use in some ways. People do have to come into the clinic six times a year. On the other hand, with oral PrEP, we can do things like telehealth, have labs done outside the clinic, and they don't have to come to the office so often.
"There have also been insurance issues, and logistics in the clinics of getting reimbursements has caused some clinics to have difficulties in getting cabotegravir PrEP up and running. Cabotegravir involves a deep muscular injection, so this has to be done in the office by a doctor or nurse. It is not something available now at a pharmacy or [that] can be self-administered," McGowan said.
"At lot of times people come in and ask about cabotegravir, and we talk about it, and sometimes, the person will say, 'Well, maybe I'll wait for something longer, like lenacapavir or something.'"
Adherence Issues
Warren said that adherence remains an obstacle with both oral and injectable PrEP. "All these therapies require different kinds of adherence. For example, oral PrEP is super effective, if you take at least four pills a week. For many people who are otherwise healthy, taking a preventive product—be it a contraceptive pill or a statin to control cholesterol—these are hard behaviors to continue," he said.
"We know that oral PrEP is incredibly effective if it is used properly," Warren said. "The injection of cabotegravir every 2 months is super safe and effective in the clinical trials. While it relieves the burden of daily pill taking, it introduces a new challenge, which is getting healthy people into a health center every 2 months for a fairly large 3 ml injection. The clinical trials show fairly significant adverse pain reactions, but people continued in the clinical trials and got the answer that the product works.
"One of the critical problems going into the programming of cabotegravir is that people dealt with whatever pain they may have felt in the clinical trials," Warren said. "But what will happen in actual clinical practice, we don't know. We are hopeful that because it is so effective, people will be adherent to taking the injection regularly."
"So now we have 2-month cabotegravir injections, and there are the PURPOSE trials underway with 6-month subcutaneous injections with lenacapavir," McGowan said. "Lenacapavir is in the pipeline for PrEP, and I believe that soon we are also likely to have year-long protection using implants or other drugs and devices."
"Lenacapavir has been approved as an add-on treatment for individuals living with HIV who have not been able to suppress the virus with current therapy," he noted. Using an innovative trial design, the primary objectives of the PURPOSE trials are to evaluate the efficacy of lenacapavir for PrEP and oral emtricitabine and tenofovir alafenamide for PrEP in adolescent girls and young women at risk of HIV infection, and to estimate the HIV background incidence rate within the regions the trial is being conducted as a control arm.
"Also in development are cabotegravir implants which could have a much longer half-life, and also an implant with tenofovir and emtricitabine. So, we are moving toward these longer-term dosing periods," McGowan said.
"Up until really recently," Warren said, "all the HIV therapies that are generally used around the world for both treatment and PrEP are oral tablets taken daily.
"I believe that we are now on the cusp of a new and exciting moment of innovation, because we now have cabotegravir every 2 months on its own and then it can be combined with rilpivirine as an every 2-month treatment, and there is lenacapavir which has been approved for an every 6-month injection for treatment in combination with other antiretrovirals, and it is in current clinical trials for prevention as an every 6 month injection," Warren said.
"The good thing about the implants," said McGowan, "especially the proposed cabotegravir implant—when you remove it the levels of the drug in the body go down very quickly, so if a person wanted to be pregnant, the risk of adverse effects could be reduced very quickly," he said.
"The small linear tubes are generally implanted under the inside of the arm, and they can just be pulled out if need be, as similarly done in long-term contraception implants. The procedure can easily be performed in a doctor's office," McGowan said.
"These implants are not available as yet for PrEP, but that is where the field is moving," he said. "I don't expect it will be that long before we will have year-long PrEP. It really is just a matter of logistics, making sure these implants work correctly or the drugs have the long-acting potential. Things like the dapivirine ring have had problems but it is still being pursued in the developing world because it is a means for women to have control over the use of PrEP."
Neutralizing Antibodies—Pipeline or Pipe Dream?
Another area of development for HIV treatment, and possibly for PrEP, is neutralizing antibodies. "These antibodies work really well in treatment for patients who harbor susceptible virus," McGowan said. "Whether it would be possible to find a single antibody that would work for prevention would depend on the prevalence of resistant HIV strains and might require neutralizing antibodies along with other drugs for PrEP. It is something of great interest."
At the 30th HIV Glasgow Conference in 2022, the early results of the BANNER trial demonstrated a drop in HIV viral load when administered to people living with HIV, McGowan said.
In the BANNER trial, there was a drop in the viral load, and then a rebound, said McGowan, whose institution was one of the participants in the BANNER trial. The trial is evaluating N6LS (VH3810109), a novel, investigational, broadly neutralizing antibody. It is being studied in two doses: 40 mg/kg and about 4 mg/kg in adults living with HIV.
The proof-of-concept study showed that a single infusion of N6LS demonstrated strong antiviral efficacy at both doses while also being well-tolerated by study participants.
Broadly neutralizing antibodies recognize and block the entry of different strains of HIV into healthy cells. N6LS binds to a specific site (gp120) on the surface of HIV that prevents its entry into immune system cells—CD4-positive T-cells. By blocking HIV's entry into human CD4-positive cells, the virus is unable to replicate, and the HIV transmission process may be prevented.
The phase IIa BANNER study was a randomized, open-label, two-part, multicenter study to evaluate the safety, pharmacokinetics, and antiviral activity of N6LS among 14 treatment-naïve adults living with HIV. N6LS was evaluated as monotherapy, with participants receiving a single intravenous infusion of N6LS, followed by 48 weeks of standard-of-care antiretroviral therapy.
At the conclusion of the monotherapy period, virologic response to the N6LS was observed in 13 of the 14 participants, with more than a 1-log10 drop in viral load with either dose. The treatment was well-tolerated.
Maturation Inhibitors, a Distant Possibility
Another new development in the treatment of HIV is maturation inhibitors, McGowan said. "There are no maturation inhibitors on the market now. They have been in development for many years. This newer generation of maturation inhibitors look like they have a bit more activity, and that is why they are moving forward into clinical development. Any of these drugs may potentially be useful for PrEP, although you are looking for therapies that interact with the virus early in their life cycle."
A January 2022 publication in Antimicrobial Agents and Chemotherapy, a journal of the American Society for Microbiology, reported findings from in vitro studies of GSK3640254 that defined the antiviral and resistance profiles for the agent. The compound displayed strong antiviral activity against a library of subtype B and C chimeric viruses containing Gag polymorphisms and site-directed mutants previously shown to affect potency of earlier-generation maturation inhibitors.
A previous phase IIa clinical study appeared to show that GSK3640254 reduced viral load more than 2-log10.
Too Soon to Strike Up the Band
While progress has been made in PrEP, Warren of AVAC said it isn't time to be patting ourselves on the back.
'There has been a lot of progress on the research and development side of PrEP, much less on the delivery side," he said. "Until 2006, we were in a condom response to PrEP in a biomedical perspective, using male and female condoms. Then we found we could prevent a great deal of transmission through male circumcision. We first started using oral PrEP in 2010, and now we have a vaginal ring and a 2-month injection. While we just have a handful of things that we can use to prevent HIV transmission through sex, it is a better handful than we had 2 decades ago on the development side."
However, he added, there is still the problem of getting PrEP, of any kind, into the bodies of people who need it.
McGowan concurred: "The biggest issue with PrEP is getting it to the people who need it. The latest figures from the CDC indicate that 66% of White men who have sex with men who should be on PrEP are getting it; but most infections are occurring in Black men who have sex with men, and only 9% of these men eligible for PrEP are getting it; and just 16% of Hispanics who are eligible for PrEP are getting it. It is way out of proportion.
"We have been improving, but we need to get the message to the communities that need it the most," he said. "There is this big inequity of roll-out. There has been a lot of medical mistrust that has developed; there is a sense that communities do not recognize they are at an increased risk of HIV; young people are less aware of the risk, and they feel invulnerable, especially among young men of color.
"The messaging has to come from within, getting testing vans into the community, having peers and other people and influencers messaging it," McGowan said. "We think that having people from within the community getting the message out will be the best way of increasing the uptake of PrEP."
He also noted that even if year-long or 6-month long implants and injections are developed and rolled out, the people getting the injections are unlikely to become strangers. "We monitor these individuals regularly, and we also do sexually transmitted infection screening which has been shown to be very effective in reducing those rates," McGowan said. "We obviously also do HIV screening and education and discussion about risk reduction. There have been some cases of rare breakthroughs, even with drugs like cabotegravir."
"If we give PrEP to people who do not have a lot of sexually-transmitted infections, we are probably giving PrEP to the wrong population," he added. "We want to give PrEP to people who are at risk of HIV infection—a partner who is infected, or who have multiple sexual partners. But actually, we would reduce the burden of sexually-transmitted infections if we are screening the highest risk individuals, treating them promptly, and reducing that burden of sexually-transmitted infections within the community.
"Most of the people who are getting PrEP are not in long-term relationships," McGowan said. "If they have a long-term relationship, it is likely their HIV-infected partner is in treatment with antiretrovirals and suppression of the virus virtually makes the partner untransmittable—the undetectable equals untransmittable (U=U)."
Disclosures
McGowan cited no personal conflicts of interest, although his institution has relationships with pharmaceutical companies for participation in HIV-related clinical trials.
Warren disclosed no relationships with industry.
Sources
Dicker I et al, "GSK3640254 is a novel HIV-1 maturation inhibitor with an optimized virology profile," Antimicrobial Agents and Chemotherapy, January 2022.
Landovitz R et al, "Cabotegravir for HIV prevention in cisgender men and transgender women," N Engl J Med 2021; DOI: 10.1056/NEJMoa2101016.